Genius Level Intelligence
Business Intelligence solutions from Cloud Brigade
B.I. doesn't have to be scary
We can help you make sense of your data
Business intelligence is no longer a "nice to have" feature of your business, it's essential to your success. The problem is most companies have more data than they know what to do with and taking the time to aggregate heaps of data across multiple databases and designing useful data visualizations sounds about as fun as a root canal on your birthday.
Let Cloud Brigade help you stay proactive with painless BI solutions.
---
Cloud Brigade provides expert BI Solutions
Smart Reports, Custom Dashboards, and Powerful Visualizations
Cloud Brigade's experienced data scientists can help make your analytics work for you more efficiently by organizing you data streams, capitalizing on hidden metrics, and extracting valuable insights that are available to everyone on your team.
Get real-time insights of your company financial health in a single pane of glass, providing a past/present/future view at a glance, with meaningful drill-down to the underlying data.
Optimize your team's productivity and financial output with real-time visibility of KPIs and warnings when staff may miss revenue targets. Keep apprised of attendance, billable time, and realized revenue.
Better manage your workplace capacity with historic presence information by department, team, or person. Discover opportunities to leverage your resources and limit waste.
Whitepaper: How we upped our game using Business Intelligence
Learn how we aggregated data from multiple management tools into custom B.I. dashboards and smart reports that allowed us to extract hidden metrics and valuable insights and made it all available to everyone on our team.
In our whitepaper we outline:
How we created a Financial Dashboard to give us a past/present/future view of our company's financial health in a single pane of glass.
Helped optimize team productivity and financial output with real-time visibility of KPIs and warnings when staff may miss revenue targets.
How we embedded our analytics into a custom web portal, providing a feedback loop to all team members.
Download the Whitepaper
*Thanks for trusting us with your email, we promise we hate spam as much as you do!
Our Process
Our San Francisco Bay Area team can benefit your organization.
Discovery
First we need to acclimate to your IT environment and review your systems, networking, technology stack, and any available documentation. With fresh eyes we will compile a list of questions, concerns, and observations which we will present to you in a summary document. Upon review of these findings, we will provide a list of suggested actions in a proposal.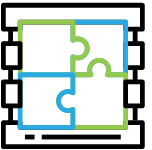 Export, Transform, and Load (ETL)
This is the act of acquiring the customer's data from it's sources which could be various applications and databases, making strategic changes to the data (transforming) so the data is more efficiently consumed, and stuffing it into the data warehouse.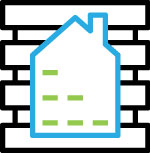 Data Warehouse (DW)
This is a place (usually a "big data" database, often in the cloud) where we can aggregate all of the data in one place so Looker can run queries against the data. It's basically a database of databases.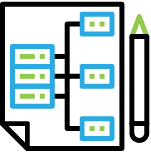 Data Modeling
A data model is a conceptual representation of data objects, the associations between different data objects, and the rules.

Data modeling helps in the visual representation of data and enforces business rules, regulatory compliances, and government policies on the data. Data Models ensure consistency in naming conventions, default values, semantics, security while ensuring quality of the data.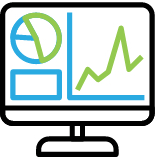 Visualizations
We create custom dashboards which visualize the data models.
---
---
Talk with a Techie
Talk with us about your BI project needs